A Sampling of Customer Comments Received by the Author.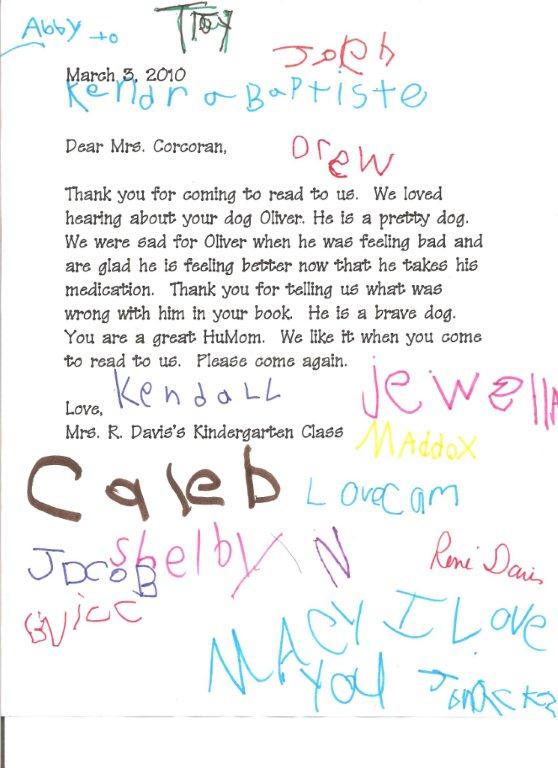 Hi Candyce,
Hope all is well in White Plains.... : )
Just wanted you to know that my grandchildren were down for the weekend. I read them Oliver's book! They loved it! It was the hit of the weekend... :)
Morgan, my 7 yr. old granddaughter wanted to read it to me instead of playing with the Wii! Brandon (2) loved the pictures ... but he kept calling Oliver ... Piper!
They couldn't get over a "Lady" that I know wrote this book! ; )
They also were amazed that you personalized it for them.... Thanks again!
Hugs to All!
-Sue & Piper

"Oliver" is a wonderful book. It is well written and easy for even a small child to understand and the illustrations are beautiful. It's message is sweet and very comforting, especially to a child who has to take medication all the time. The Children's Library, where my therapy Bichon, Cosmo, and I visit twice a week, got the book to have in the library. Cosmo has a big fan club and the kids think it's very neat that we have actually met Oliver and his owner. Thank you, Candyce, for this uplifting story. Oliver is an inspiration to us all.
-Jeanette
Hi Candyce,
Last Friday Gigi and I visited my daughter's (Mrs. Torak's) kindergarten class and Mrs. Torak read "Oliver" to the class. The children were delighted to see Gigi and loved the book. They asked lots of questions, and we all had a wonderful time. I've attached a couple of pictures of Gigi and me and a little girl from the class. Thanks for writing a lovely book about a sweet little fluff.
Fluffy hugs,
-Gigi and Vivian
Dear Candyce,
I received your book today. I love it! It's sweet and beautiful! I'm going to the website and ordering another copy. I want to give it to my wonderful vets! If it wouldn't be too much trouble, could I ask you to inscribe it for them?
-Mackie

I did receive the book and it is just lovely! I am using it in my classroom of preschoolers as a teaching book about animals and vets. I am taking a certification class for early childhood teaching and I am going to share it with the other teachers in my class.
-Diane

Today I received in the mail the book entitled Oliver by Candyce Corcoran. It's a wonderful little book about a rescued Bichon named Oliver, his visit to his veterinarian, the diagnosis of hypothyroidism, and how Oliver will be able to stay strong and healthy with medication. It is beautifully written and illustrated. I hope to take Gigi in to the kindergarten class that my daughter teaches when she reads it to them. The book is a lovely example of a Bichon book written by a very loving and caring author.
-Vivian

Just wanted to tell you that two recipients of your book were enchanted with it. I also donated one to the children's department of the library. They were thrilled to have it.
-Sandra

I did!! I read my boyz a bedtime story that night and my husband actually stayed for the story! Oliver is so cute!!
-Veronica

I showed "Oliver" to the folks at the Children's Library in Oak Ridge and they are going to order it. Maybe one of the kids will read it to Cosmo when he's there!
-Jeanette

Got the books today - OMG it's so precious - thanks so much!!!!
-Georgia

So cute! Illustrations are wonderful! The story is so sweet, a lot of kids will benefit from this book, ya done good girlfriend!!
-Carol

I must tell you, I have received my copy of your book, and am delighted!! What a sweet, sweet story. And the illustrations, especially the one of Oliver from the back, looking over his shoulder, are the cutest depictions of a bichon that I have seen.
-Lynda

I love the book - received them and am in the process of delivering. Everyone thrilled that the author wrote to their children.
-Dorothy

I received the books today. Thanks for getting them out so quickly. The book is adorable and tells a very good story, especially for kids who have to take medicine. Good job!
-Jeanette