"Oliver" Press Release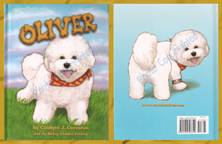 OLIVER

By
Candyce J. Corcoran
"Oliver" is an inspirational, beautifully-illustrated and well-received book about our family's much-loved, rescued Bichon Frise. Oliver was rescued a few days before he was to be "put to sleep" and diagnosed with Hypothyroid Disease shortly after. He needs to stay on thyroid hormone medication for life to remain the healthy and happy furkid he now is.
The book was written for and dedicated to my courageous grandson Austin who, like Oliver, was born with Congenital Hypothyroidism. When Congenital Hypothyroidism is correctly diagnosed in the first weeks of life, and treated with Thyroid Hormone Medications, babies will grow and develop normally.
Copies of "Oliver" have been donated and read at local schools, youth facilities, pediatric offices, children's hospitals around the country, including St. Jude's and Ronald McDonald Houses. My hope is that "Oliver" will help ease the pain of childhood illness through the big brown eyes of a sweet dog who shares sickness with them. The book has been sold across the United States, Europe, and as far as Australia. All books are beautifully personalized and can be purchased only on Oliver's website, www.worldofoliver.com. Oliver would love to have you as a friend on Facebook: Oliver Corcoran.
Oliver and I have been interviewed on the NBC Television network affiliate, BETTER NASHVILLE. http://www.worldofoliver.com/video.htm, WPCNR, www.wpcnr.com and The White Plains Times, www.wptimes.com; and the Rutherford Reader, www.rutherfordreader.com.
I've been told that many children with cancer sleep with the "Oliver" book beside their pillow and take "Oliver" with them to the hospital for their chemo and radiation treatments. One grandmother told me that her granddaughter took "Oliver" with her on a Make a Wish trip to Disney World.
"Oliver" is a pleasure for every child to read, be inspired by and enjoy. It can help children understand that going to the doctor is not a threatening, frightening experience and that taking medications is ok. Rescued animals, like Oliver, also benefit from the book since every single penny of the book's profits go to help animal rescue.
Thank you in advance for your interest.
Candyce J. Corcoran
914-509-9504