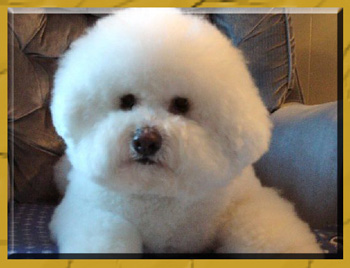 Oliver was rescued by the writer Candyce J. Corcoran, his human mother (HuMom). Candyce is involved with Bichon Frise Rescue around the United States. After his rescue, Oliver was diagnosed with Hypothyroid Disease and will need thyroid medication for the rest of his life. In 2011, the world famous Oliver, was diagnosed with severe lymphocytic-plasmacytic inflammatory bowel disease and lymphangiectasia. Oliver will continue to be an ambassador of love to all children.
About the Author, Candyce J. Corcoran: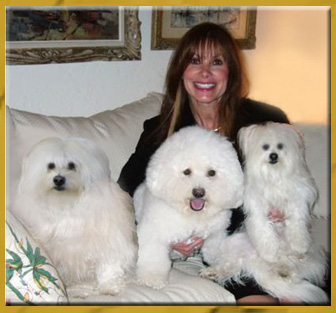 Candyce J. Corcoran has loved animals since she could walk. Candyce, Oliver the Bichon Frise, Beemer and Lexus the Coton de Tulears, Coupe and Deville the Main Coon Cats, and Candyce's family recently moved to Rutherford County, TN. from Westchester County, NY. Candyce has served her community in many capacities including but not limited to; White Plains Recreation and Parks Advisory Council, American Cancer Society and American Heart Foundation Representative, Disabled Citizens Committee, Featured in The GANNETT Newspapers, Suburban People, 1993. (Recognized as Most Outstanding Citizen). Featured on NBC Nightly News: Interviewed by Newsmen Irving R. Levine and Tom Brokaw, Featured on NBC Nashville Affiliate, Elmsford Animal Shelter Volunteer, a Community Advocate for Animal Welfare, Squadron Commander-United States Power Squadrons. Candyce holds a B.S. Degree from Pace University, licensed in Nursing, graduate studies in Finance at Mercy College and had many successful years in the Financial Service Industry.
"It is my Grandson Austin that inspired me to write this story to help ease the pain of childhood illness through the big brown eyes of Oliver.
Oliver is the very much loved rescue Bichon Frise, my very own Fluffy Marshmallow."
- Candyce J. Corcoran
About the Illustrator, Betsy Franco Feeney:
Betsy Franco Feeney is an award-winning illustrator of several children's books. AMOEBA HOP, written by celebrated singer/songwriter, Christine Lavin, was honored with an American Association for the Advancement of Science's "Best Books" award. Betsy lives in Piermont, New York with her husband, Jim and her Yorkshire Terrier, Annie.
Contact Information:
Candyce J. Corcoran
511 Beverly Randolph Drive
Murfreesboro, TN 37129
Contact Phone: 914-509-9504
Email Address: worldofoliver@aol.com
FaceBook: Oliver Corcoran